Our downtown dental clinic gets asked about yellow teeth often. Many people are concerned about the appearance of their teeth and want to know what they can do to reduce the appearance of yellowing. Today, we look at everything you need to know about yellowing teeth, so let's get started. 
What Causes Yellow Teeth?
The yellowness of teeth is actually the exposure of the dentin layer. This is the second layer of teeth, comprised of calcified tissue, which sits beneath the outermost enamel layer. The enamel layer can erode from a number of causes, including ageing and consuming acidic food and drink.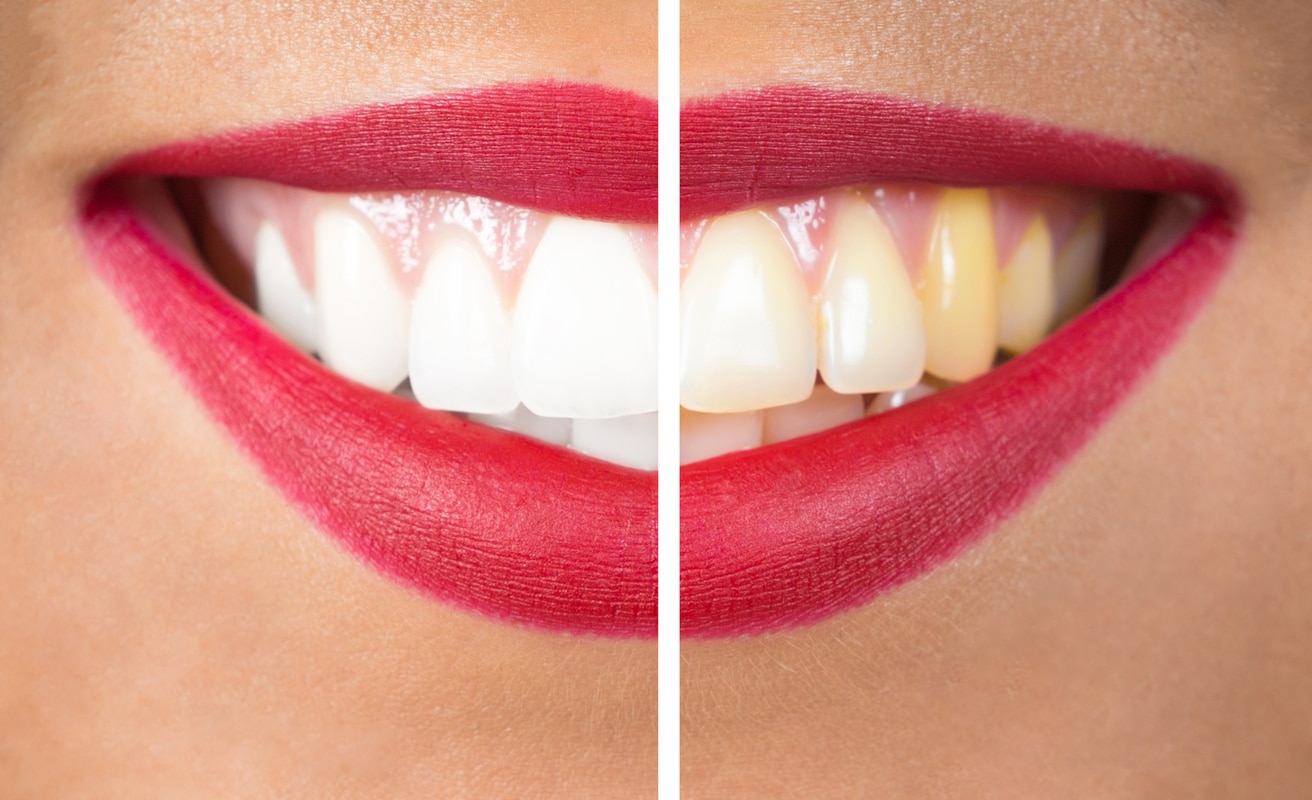 How to Prevent Teeth Yellowing
Brushing & Flossing
The best way to prevent and reduce the appearance of yellowing teeth is regular brushing and flossing. By brushing your teeth twice a day and flossing in the evenings, you ensure that bacteria and plaque buildup do not occur. Remember not to brush your teeth immediately after eating, as this can spread the digestive acids from your mouth and natural acids from your food into the gums and teeth. Additionally, choose whitening toothpaste, which contains gentle abrasives to remove plaque and staining.
Natural Whitening Methods
A combination of baking soda and hydrogen peroxide has been shown to reduce the appearance of yellowing on teeth and is safe for use at home. Simply mix two parts of hydrogen peroxide to one part of baking soda until a paste is formed. Then, brush your teeth with the paste and thoroughly rinse your mouth. You can do this daily to improve the appearance of your teeth. 
Visiting Your Dentist
Regular visits to your downtown dental clinic can help prevent teeth yellowing as well. Teeth cleanings help prevent cavities and other oral health concerns, while seeing a dentist helps ensure that any problems are addressed promptly and correctly. 
Visit Our Downtown Dental Clinic for More Information
Using the advice above, you can improve the look of your teeth and reduce the appearance of yellowing. However, if your problems are rooted in an infection, cavity or other oral health concern, you should visit our downtown dental clinic. We can provide additional information and support to ensure your oral health is at its best.
Dr. Tracey Mulhall is a dentist in downtown Calgary that can offer dental fillings, crowns, implants, and teeth cleaning. We are always available to help with your dental concerns. Our downtown dental clinic has convenient hours and knowledgeable staff. We want to make your experience at the dentist fast, fun, and friendly. Call us today to book an appointment!
Phone: (403) 262-4914 | Email: [email protected]